Pon√ß Puigdevall: Diatomea. N√ļria Perpiny√†

A novel of impeccable futuristic adventures, of audacious and hilarious mental filigree, drawn with efficient technical resources, in Diatomea Perpinyà has also elaborated a priceless discourse on human stupidity.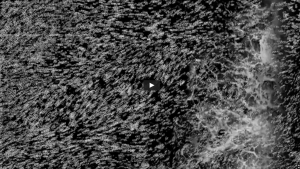 Sea of Letters de Rafael Lozano-Hemmer. Haciendo agua 
NEWSPAPERS AND LITERARY MAGAZINES
MILIAN, ÀLEX. "A 'Diatomea' la mar és la víctima que alguns volen convertir en culpable". El Temps. 3-05-2022. [PDF]
JUANICO, NÚRIA. "L'apocalipsi t'està esperant". Ara Llegim. 29-04-2022. [PDF]
PUIGDEVALL, Ponç. "Recomanacions de llibres en català: Ràbia, fredor, sàtira". El País. 22-04-2022.
[VENTURA, Gemma] "Una novel·la sobre el mar". Catorze. Abril 2022.
PUIGTOBELLA, Bernat, SALVAD√ď, Mariona; TERRA, Naia. "Benvinguts al futur".¬†N√ļvol. St Jordi. 3-04-2022. [PDF]
BOMB√ć, Francesc. "L'escriptora debuta amb la ci√®ncia-ficci√≥ amb "Diatomea"". La Vanguardia. 03-04-2022. [PDF]
CASTILLO, David. "L'alternativa és blava". El Punt Avui. 27-III-2022
BALLABRIGA, Juanjo. "M'espanta el canvi climàtic". Segre. 19-III-2022.
ROSET, Guillem: "N√ļria Perpiny√† s'estrena amb la literatura fant√†stica en una novel¬∑la que aborda la demag√≤gia i el populisme". Ag√®ncia Catalana de Not√≠cies. 17-III-2022.
"N√ļria Perpiny√† proposa una reflexi√≥ liter√†ria i tragic√≤mica del canvi clim√†tic a Diatomea". CatalunyaPress. 17-III-2022.
INTERNET'S BLOGS
Emili Bayo. "La mirada al futur de N√ļria Perpiny√†". 12-05-2022.