Ponç Puigdevall: "Immense continent of the possible"

It is one of the virtues by Perpinyà: the wisdom of creating narrative confusion, but the reader must not fear anything and must have full confidence in the author's narrative skill. Diatomea is a novel of impeccable futuristic adventures, and of hilarious mental watermarks, drawn with effective technical springs; and above all a priceless discourse on human stupidity.

Anna Carreras: "The Great Gystopia on Climate Change""

N√ļria Perpiny√† has written her best novel making an absolute change of genre.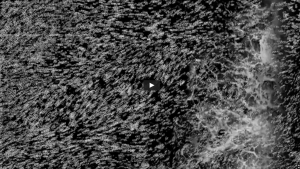 Sea of Letters de Rafael Lozano-Hemmer. Haciendo agua 
NEWSPAPERS AND LITERARY MAGAZINES
ROMERO, Silvia. "NuŐĀria PerpinyaŐÄ: ¬ęNo veig el futur com una negra distopia¬Ľ". Llegir.cat. 22-09-2022.¬†[PDF]
CARRERAS, Anna. "La gran distopia sobre el canvi clim√†tic". N√ļvol. 25-07-2022.¬†[PDF]
AY√ČN, Xavi. BOMB√ć-VILASECA, Francesc. "Una maleta de llibres per a l'estiu. Houellebecq, Sosa Villada i Perpiny√†, entre els autors destacats". La Vanguardia. 17 juliol 2022.
PUIGDEVALL, Ponç. "Immens continent del possible". Quadern. El País. 12 juny 2022. [PDF]
FERRAN, Anna. "Literatura per a remoure consciències i fomentar el pensament verd". DiariMés. 3-06-2002.
MILIAN, ÀLEX. "A 'Diatomea' la mar és la víctima que alguns volen convertir en culpable". El Temps. 3-05-2022. [PDF]
JUANICO, NÚRIA. "L'apocalipsi t'està esperant". Ara Llegim. 29-04-2022. [PDF]
PUIGDEVALL, Ponç. "Recomanacions de llibres en català: Ràbia, fredor, sàtira". El País. 22-04-2022.
[VENTURA, Gemma] "Una novel·la sobre el mar". Catorze. Abril 2022.
PUIGTOBELLA, Bernat, SALVAD√ď, Mariona; TERRA, Naia. "Benvinguts al futur".¬†N√ļvol. St Jordi. 3-04-2022. [PDF]
BOMB√ć, Francesc. "L'escriptora debuta amb la ci√®ncia-ficci√≥ amb "Diatomea"". La Vanguardia. 03-04-2022. [PDF]
CASTILLO, David. "L'alternativa és blava". El Punt Avui. 27-III-2022
BALLABRIGA, Juanjo. "M'espanta el canvi climàtic". Segre. 19-III-2022.
ROSET, Guillem: "N√ļria Perpiny√† s'estrena amb la literatura fant√†stica en una novel¬∑la que aborda la demag√≤gia i el populisme". Ag√®ncia Catalana de Not√≠cies. 17-III-2022.
"N√ļria Perpiny√† proposa una reflexi√≥ liter√†ria i tragic√≤mica del canvi clim√†tic a Diatomea". CatalunyaPress. 17-III-2022.
"N√ļria Perpiny√† propone una "reflexi√≥n literaria" y tragic√≥mica del cambio clim√°tico en 'Diatomea'". Europa Press / www.gentedigital.es.¬†17-III-2022.
AUDIOVISUAL MEDIA
"All the Sea Voices". Online Dialogues. The writer Ada Castells talks with N√ļria Perpiny√† about her latest novel Diatomea. Live broadcast on the YouTube Channel of the ACEC Writers' Association. Thursday, July 14, 2022 at 8:00 p.m.
PODCASTS
Marta Clua. "Diatomea de N√ļria Perpiny√†". Barcelonadot.¬†¬†TOC TEC. 21-05-2022. 3'47".
INTERNET'S BLOGS
Emili Bayo. "La mirada al futur de N√ļria Perpiny√†". 12-05-2022.