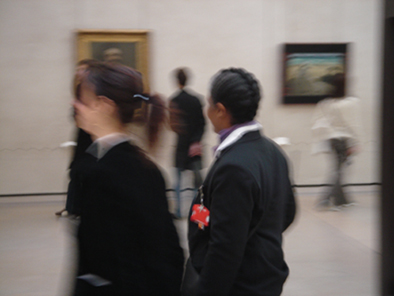 Xavier Pla: The vanguard servants

Few Catalan writers know how to create such powerful and seductive worlds as the ones of Perpinyà. It is admirable the author's ability to determine a field of study, measure it, theorize it, contradict it and then recreate it until the end.

Anton Not: The privilege of art

The Roman satirist Juvenal left formulated a question: "quis custodiet ipsos custody?'ÄĚ which can be translated as: Who keeps an eye on the guards? The concept of the authority, in a broad sense: cultural and social one, it is one of the fundamental topics of the novel¬†The Privileged.

Ponç Puigdevall: Silent horrors

N√ļria Perpiny√†'Äôs writing can evoke all the possible qualifiers, but the only ones that can certainly never appear are related to concepts such as repetition, monotony, boredom, predictability and creative comfort. (…) The novel can be read in many different directions: it can be a novel of manners about a daily life of the museum guards; it can be a meditation on the miseries of cultural tourism; it can be a reflection on art seen as a museum of silent horrors and dusty provincial life; it can be a nothing strange radiography about how the cultural life collapses because of political and social power; it can be, after all, that¬†The Privileged¬†is a huge joke about human stupidity.

Esdras Jaruchik: Laughing at art and at the one who guards it

Where in¬†Mistana¬†is atmosphere in¬†The Privileged¬†are ideas. Ideas like the troubled relationship between the art and a copy, the role of the museum itself as a store of art and/or as a theme park for the masses, etc. And the merit of Perpiny√† lies in the fact that all these ideas are raised but not answered; she is fair, or, what is the same, she is critical to everyone. (…) As it is neither easy nor usual to combine the risk with fun and humour, so present in this work, in¬†The Privileged,¬†she has achieved it.

Eva V√°zquez: A touching imbecility

Alternating a novel and a play in a styling exercise, incredibly bold and very effective (…),¬†The Privileged¬†offers an x-ray that is unexpectedly reliable, for its grotesque style, of the contemporary society and new tyrannies of the audience, the globalization and the mass culture.¬†(…) Perpiny√† elaborates this hilarious altarpiece over the vast domains of human imbecility, such as Flaubert proved by means of his copyists Bouvard and P√©cuchet the unfounded illusions of the nineteenth century bourgeoisie in the fullness and progress.

Do you read or enrich? Thellibres: "Fear of change"
As I said in my previous post, I have the intention of inserting both, readings of literary classics and the latest news from the publishing world; in this case, I decided on¬†The Privileged¬†by N√ļria Perpiny√†. As the title of this novel suggests, probably all of us, in our way, and to a greater or lesser extent, are a kind of privileged ones; that is to say, we enjoy advantages or exemptions of this or that obligation, by concession of a superior or our own circumstance, and from this status we are afraid and we resist to change.
It is an interesting book, where the first element that surprises us, for being unusual, is the mixture of narrative and a theatre play. The narrated part performs as a kind of consciousness 'Äď the narrator is slowly introducing the action as well as he offers his valuations and offers us the view on the main action. On the other hand, the dramatic part develops the main action in the book. This narrative and dramatic mixture endows the novel dynamism and rhythm, which the author enriches with a touch of black humour and cynicism that is well appreciated.¬†N√ļria Perpiny√† achieves in this story to condense nowadays society and its actors in a provincial museum, in the fictional town of Telam√≥s (which undergoes some radical changes), and with the help of a choral group of protagonists, she describes the conflict and struggles in the workplace, reflects on the art and cultural tourism and how the society in general and its members in particular overcome all the changes, how multiculturalism is set in the present days, etc. That is, I recommend not to stay with the first impression but to read between the lines, or rather, pay a careful attention to all the topics the author touches and wants to show us.¬†Another pleasant discovery in Catalan that I recommend to everyone. I'Äôve transcribed some quotes from the book¬†The Privileged: "Be that as it may, the rules of the art and the universe do not apply for ordinary people. Not everybody can be able to understand logarithms or the nervous system, neither that a nude sculpture is not a shameless body inviting for erotism, the Venus and the Aphrodites of the painters are symbols of a pure beauty that should not be regarded with curiosity but with admiration."¬†"But the knowledge engenders sadness and the sadness distorts perception. Marti knows some things because he spends his days reading, but as he realizes he does not know enough, he sinks and wonders whether or not his crippled life has any meaning."¬†"Life is a mixture of philosophy and everyday life: of bread and mathematics; pumps, formulas and chops of meat."¬†"If you do not think much about death, how can you waste time thinking about art which is far less important?"¬†"The deception is sweet, the truth burns. The art beautifies the reality because it falsifies it: an idealistic poetry, retouched photographs, added fantasies of great conversationalists. The art pays the price of a lie."
Reviews from readers
An anonymous reader thellibres.blogspot.com (25-VIII-2008):
The Privileged is a novel that speaks about what is left around the heart of art, of those who live in the quiet mystique of the art pieces, of the voices that live under the silent and beautiful orchestra of the art. An inside story about art, using Unamuno's term that leads us to human, excessively human, personalities of the guards, or, let's call them so, of the privileged. A song that surrounds the art without being art, from an excellent novelistic art of the Lleida writer, that mixes, with equal proportion, talent and work, blessed her and blessed are all those who read it.
THE PRIVILEGED: A READER
NEWSPAPERS AND LITERARY MAGAZINES
DASCA, Mar√≠a. "Mujeres de palabras. Escritoras catalanas hoy". √ćnsula. 871. Juliol 2019.¬†[PDF]
CASTELLS, Ada. "Ens confirmem en la raresa". La Rep√ļblica de les Lletres. 4. 2019.¬†[PDF]
CASTELLS, Ada. 'ÄúPrivilegis de risa'ÄĚ.¬†La Vanguardia. 22-VI-2011.¬†[8 PDF]
CALONGE, Pere. 'ÄúL'Äôart i la conting√®ncia'ÄĚ.¬†Caracters, 42. 31-VIII-2008.
SAEZ, Anna. 'ÄúEntrevista: N√ļria Perpiny√†, escriptora'ÄĚ.¬†Segre,¬† 515. 6-IV-2008.¬†[7 PDF]
JARUCHIK, Esdres. 'ÄúRient de l'Äôart i del qui el vetlla'ÄĚ.¬†Benzina. 20-X-2007.¬†[6 PDF]

GUILLAMON, Juli√†. 'ÄúQue cosa succede amb li guardini'ÄĚ.¬†La Vanguardia. 10-X-2007.
BONADA, Llu√≠s. 'ÄúEl llenguatge d'Äô¬ęEls Privilegiats¬Ľ √©s planer perqu√® els personatges hi s√≥n planers'ÄĚ.¬†El Temps. 9-X-2007.
CORTADELLAS, Xavier. 'ÄúDel retrat bell a l'Äôhecatombe'ÄĚ.¬†Pres√®ncia.¬†5-X-2007.
PAG√ąS, Vicen√ß. 'ÄúUn sainet metaf√≤ric'ÄĚ.¬†El Peri√≥dico. 4-X-2007.
SANCHEZ, Vanesa.¬† 'ÄúEntrevista: N√ļria Perpiny√†. El arte, el reflejo del mundo'ÄĚ.¬†Ox√≠geno, 73. 4-X-2007.
NOT, Anton. 'ÄúEl privilegi de l'Äôart'ÄĚ.¬†La Ma√Īana. 16-IX-2007.¬†[5 PDF]
RAMIS, Llucia. 'ÄúPerpiny√† exhibe todas las culturas en el museo de ¬ęEls privilegiats¬Ľ'ÄĚ.¬†El Mundo. 14-IX-2007.
VAZQUEZ, Eva. 'ÄúUna entendridora imbecil.litat'ÄĚ.¬†El Punt. 13-IX-2007.¬†[4 PDF]
PLA, Xavier. 'ÄúEls criats avantguardistes'ÄĚ.¬†Avui. 13-IX-2007.¬†[3 PDF]
FERNANDEZ, Victor. 'ÄúNuria Perpiny√† fusiona teatro y novela en una reflexi√≥n sobre el papel del arte'ÄĚ.¬†La Raz√≥n.¬†12-IX-2007.
PI√ĎOL, Rosa Maria. 'ÄúNuria Perpinya satiriza en su novela ¬ęEls privilegiats¬Ľ el mundo del arte y los museos'ÄĚ.¬†La Vanguardia. 12-IX-2007.
ALOS, Ernest, 'ÄĚEntrevista amb N√ļria Perpiny√†, escritora: "Els museus s'estan convertint en s√ļpers".¬†El Peri√≥dico. 11-IX-2007.
PUNZANO, Israel. El País, 10-IX-2007.
CASTELLS, Ada. 'ÄúSomriure perplex'ÄĚ.¬†Avui.¬†7-IX-2007.
[SERRA, Montse]. 'ÄúEl teatre fet novel.la'ÄĚ,¬†Vilaweb, 10 setembre, 2007.¬†[2 PDF]
LLAVINA, Jordi. 'ÄúUn museu atape√Įt de llums i ombres'ÄĚ.¬†El Mundo. 7-IX-2007.
PUIGDEVALL, Ponç. "Horrors silenciosos. El País. 6-IX-2007. [1 PDF]
GUILLAUMET, Francesc. 'ÄúN√ļria Perpinya analitza el m√≥n de l'Äôart a la novel.la ¬ęEls Privilegiats¬Ľ.¬†La Ma√Īana. 9-VIII-2007.
RADIO
Catalunya Ràdio. Màrius Serra. Lectoràlia. El matí. 31-I-2008.
Ràdio 4. Rosa de Diego. Dóna pas. 25-X-2007.
Ràdio austriaca ORF. Josef Manola. Literaturland Katalonien Kulturjournal. 10-X-2007.
Ràdio 4. Pilar Sampietro. Nautilus. 13-IX-2007.
Catalunya Ràdio. Txell Bonet. Cabaret Elèctric. 6-IX-2007.
Catalunya R√†dio. Guzm√°n, David, Barril, Joan. El Caf√© de la Rep√ļblica. 3-IX-2007.
BLOGS & INTERNET
Àlex Monguillot. "Musicians and Writers should not get paid". Twitter. 3-8-2022.
David Villach. Perdent el temps. 29-I-2008.
Albert Balada, 'ÄúTransgredir, transgressi√≥, transacci√≥'ÄĚ .
Joan'ÄĚ. 'ÄúLlegeixes o enriqueixes? Els Privilegiats, N√ļria Perpinya'ÄĚ.¬†Thellibres.com.¬†16-XII-2007.